March 2012, Bach Concerto for Oboe and Violin in C minor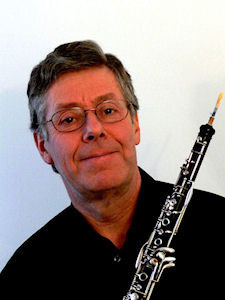 Richard Simpson hails from Yorkshire. After four years study at The Royal College of Music studying with the late Sydney Sutcliffe, he was appointed to the position of sub-principal oboe with the BBC Symphony Orchestra – a position he held for just one year, before being invited to join the Halle Orchestra as Principal Oboe. He spent eighteen years with that orchestra and during that time had the opportunity of performing concerti by Mozart, Strauss, Vaughan Williams, Martinu and Hummel with them. He was also a very active chamber musician in the North-West, performing many solo recitals and visiting festivals both in this country and abroad.
In 1991 he returned to the BBC Symphony Orchestra, this time as Principal Oboe. He has recorded for the BBC the Sinfonia Concertantes of both Haydn and Mozart. He is again involved in various chamber music activities connected with the orchestra, and with his wife, Janet, is a member of the Syrinx Trio, with Michael Cox, Principal Flute of the BBC Symphony Orchestra.
He is in much demand for masterclasses and coaching at London Colleges.
Amongst other recordings, he has recorded CDs of Thomas Pitfield's music, and more recently recordings of Benjamin Britten's Six Metamorphoses after Ovid and the Sonata for Oboe and Piano by Edmund Rubbra.