Some of our players come from the local area and some travel from as far away as Warrington, Macclesfield and Whaley Bridge! We are from all walks of life and ages range from teens to quite a lot more.
Why do we love playing with SCO so much? Read on and we will tell you…
David Graham – Violinist

"I have been secretary or chair almost continuously since I joined 30 years ago! " People seem to stay forever in our orchestra because, in addition to being a very high standard musically, it's the friendliest club I've ever been in!"
Rosy Hickman- Principal Cellist

"I joined Sale Chamber Orchestra in Sept 1985 (can this really be my 30th season??) having moved from South East London to South Manchester the previous year for my first job. My decision as to whether to join the Gorton Philharmonic Orchestra (GPO) or SCO was made purely on the basis of which was nearest to where I was living at the time – Sale was closest! Ironically, the following year I met my husband, Paul (another cellist!) as he was a personal friend of our then conductor, Stephen Threlfall. Paul was the principal cello for GPO, so I ended up playing there too! We have been married for nearly 23 years and continue to invade each other's orchestral space at every opportunity!"
Penny Gouk – Violinist
"I have been in the orchestra since I moved to Manchester twenty years ago and I still find it fun to play together regularly with a lively group of string players. We play lots of the classical repertoire for strings, but we have also been privileged to have contemporary composers dedicating their work to us, which is a challenge we enjoy very much."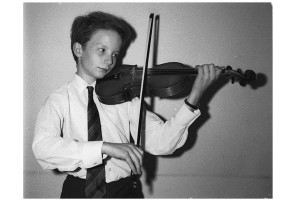 Philip Geiger – Violinist

"I was relocated to Manchester for work reasons some 20 years ago – I'm a management consultant. My main concern in moving was whether I would find an orchestra that I wanted to join! Above all I wanted to play in a string orchestra where the players are my friends, the rehearsals are as enjoyable as the concerts, and where interesting and innovative things happen every season. I'm delighted to have found SCO as it meets all those criteria!"
Ruth Ilgunas – Violinist and Secretary
"I have been playing the violin for 23 years. I was in an indie rock band for 6 years which kept me busy touring Europe. Once the band sadly ended I missed playing my violin immensely so went out to find an orchestra and discovered SCO.  I love playing with them: I am always learning and my playing continues to develop and improve. I thoroughly enjoy the music we play and the company these experiences are shared with."
John Wingad – Violinist
"I've been with the orchestra about 10 years. I prefer this smaller (chamber) orchestra to a bigger one where one's contribution can sometimes seem a bit lost, and with our conductor one can learn a lot about playing with more style and expressiveness."
Claire Loftus (Chairman) and Luci Howarth – Violinists
I think Claire might be saying "not another slow movement"!
It's the sort of comment (said very quietly so as not to upset the conductor!) that can be heard from the back desk of the second violins, where we are very happy to stay!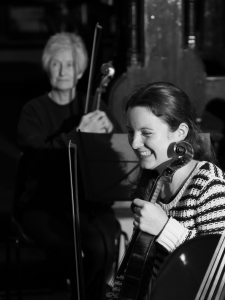 Lucy Pearce – Viola Player
"After moving to Manchester, I was on the lookout for a local group which would give me the opportunity to meet new people. In Sale Chamber Orchestra I have found everything I was looking for and more – an incredibly friendly bunch who enjoy making good music together. I'm very much looking forward to the years ahead!"

Alan Wheatley – Trumpet
"I played trumpet for Sale Chamber Orchestra in the Spring concert and I have to say this is the friendliest orchestra I've ever known! But don't let that fool you, this is no social club. They strive for and achieve a high musical standard, egged on by Richard Howarth, their conductor who is himself a professional violinist. His persuasive but humourous style, aiming for much more than just hitting the right notes, gets results with this ensemble. It almost makes me wish I was a string player! In which case I hope I would be good enough to make SCO my musical home."