In June 2012, Jonathan performed the 'other' Mendelssohn Violin Concerto (D minor) with us.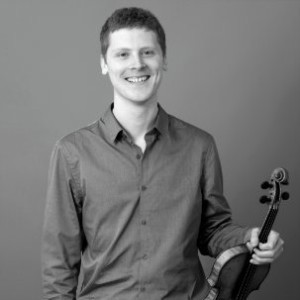 Manchester-born violinist Jonathan Martindale enjoys a busy career as a chamber music performer and teacher. As a chamber musician and soloist he has performed throughout the UK and beyond in venues including The Wigmore Hall, Sage Gateshead, RNCM Concert Hall, Birmingham's Adrian Boult Hall and the church of St Martin in Fields, London. He has also broadcast live on Radio 3 and recorded for ABC Classic FM in Australia. Jonathan is a Violin Tutor at the University of Manchester also coaches chamber music at Birmingham Conservatoire.
He is a founding member of the Eblana String Trio with whom he regularly performs for music festivals and societies throughout the country. The trio have also been featured as performing artists on the Radio 3 In Tune programme and will perform as part of the Park Lane Group London series during the 2015/16 season.
Formed at the RNCM in 2006 the trio were the winners of the Hirsch, Musicales, and Christopher Rowland Memorial prizes, also going on to win the 2010 RNCM Chamber Music Award and audience prize. They were regular performers in the RNCM's celebrated chamber festivals and notably performed the Schoenberg String Trio to critical acclaim in the 2009 festival: "…the late, mercurial, if elliptical, String Trio, a sort of 12-tone divertimento, was brilliantly undertaken by the RNCM's Eblana String Trio" (Sunday Times). Between 2013 and 2015 the trio were Junior Fellows in chamber Music at Birmingham Conservatoire providing chamber music coaching as well as performing in the Conservatoire's concert series and Festivals.
Other highlights have included performing the Hindemith String Trios in Stellenbosch, South Africa, the Schoenberg Trio and Verklärte Nacht for Birmingham Conservatoire chamber music festival, a recital performance in Germany for MusikFest Goslar, as well as attending the International Musicians' Seminar, Prussia Cove.
Outside of the trio Jonathan currently holds the position of Principal 2nd Violin (no.2) of the Royal Northern Sinfonia where he can also regularly be heard as a member of the chamber ensemble. Since 2011 he has also been a member of Manchester Camerata and has appeared with them as a soloist, principal player and chamber musician. For a number of years he has also been a guest player with the Academy of St Martin in the Fields working both with Sir Neville Marriner and Joshua Bell on tours throughout Europe, the Far East and Australia.