5th March 2016
Harp soloist: Debussy's Danse Sacree et Danse Profane
Mahler Adagietto from Symphony No. 5
"Thank you to the wonderful SCO for an amazing concert and for being so friendly- had a lot of fun playing with you."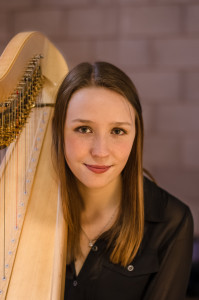 Scottish harpist Elinor Nicholson recently graduated from the Royal Northern College of Music, gaining a Bachelor of Music with first class honours. She is now working towards a Masters of Music degree, continuing her studies with renowned harpist Eira Lynn Jones at the RNCM. As a soloist, Elinor enjoys exploring the wide range of repertoire available for the harp. In 2014, Elinor was a finalist in the RNCM's Gold Medal Competition, the highest award for solo performance that the college offers. Recently, Elinor performed with the Maxwell Quartet, giving the UK premiere of Paul Patterson's 'Spider's Web' for harp and string quartet and in March 2016 Elinor will be performing Debussy's 'Danses' for harp and string orchestra with the Sale Chamber Orchestra.
During her time at the RNCM Elinor has gained extensive ensemble and orchestral experience. Recent performances with RNCM ensembles include Elinor's Wigmore Hall debut performing works by British composer Jonathan Harvey. In 2013, Elinor was delighted to be accepted on to the BBC Philharmonic Orchestra's 'Professional Experience Scheme', which offered valuable training and performance experience in Media City with the orchestra.
In 2011 Elinor formed the Polaris saxophone and harp duo with saxophonist Gilly Blair and in 2012 they were selected to give the world premiere of Andy Scott's Sonata for Saxophone and Harp at the World Saxophone Congress in St Andrews. Most recently, the Polaris Duo were awarded the second prize in the inaugural British Harp Chamber Music Competition. Elinor's flute and harp duo, the Meridiem Duo, works for Yehudi Menuhin's ground-breaking scheme 'Live Music Now!', performing in community settings such as hospitals, schools for disabled children and elderly people.
Elinor is grateful to the generous support of the Caird Trust, the Albert and Eugenie Frost Trust and the Countess of Munster Musical Trust.