Thank you for visiting Sale Chamber Orchestra's official website!
Next Concert 
Our concert on Saturday 30th November was a great success, with many thanks to our guests Trafford Infant Choir.  Our planned concert for March 28th has been cancelled as a result of the Covid-19 outbreak.  We hope to return to "Meet the Composer" in the Autumn.
Our next concert will be –   A Summer Serenade 27th June 2020 at 7:30pm, The Avenue Methodist Church, Sale, M33 4PL
Programme:
Delibes Le Roi s'amuse
Bruch Violin Converto No. 1
Sophie Rosa, Violin
Brahms Serenade No 1 in D (Op 11)
Ticket Pricing
Tickets: £10 and £8 Concessions   §   Children under 16 FREE with a paying adult
Ticket line 0161 973 8193, on the door or from any member of the orchestra

New Players
If you're a string player, you're welcome to come along to one of our rehearsals.  Whether you are just visiting or are thinking about joining, you'll receive a warm welcome and we're sure you'll find it an enjoyable experience. You can
get in touch here.
For more details about what it's like to play in our orchestra, see what Our Players have to say.
We rehearse on Monday nights at Oldfield Brow Primary School, Taylor Road, Altrincham, WA14 4LE  from 8 to 10pm.  Rehearsals are temporarily suspended until April 20th at the earliest in response to Covid-19.
Minim's New Book
Sale Chamber Orchestra is delighted to announce the publication of our second squeaktastic new illustrated book, "Minim Goes to the Proms". All proceeds will go towards funding our work with young people. Sales of the book have been wonderfully encouraging since our special family concert on Saturday 17th March 2018.  Minim is suitable for music lovers of any age and would make a perfect gift at any time but especially now as the real Prom season at the Royal Albert Hall has been launched, so why are you waiting?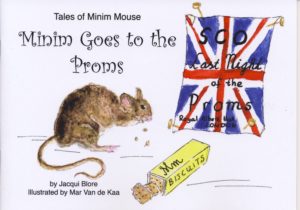 To buy Minim's new book please click here – squeak!
The Minim Song