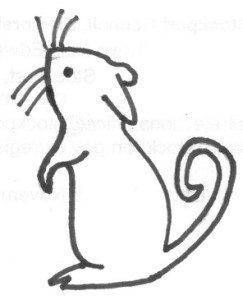 Squeaky squeaks! If you are under 16 and would like to sit on the front row at our next concert and get the full VIP experience then please email secretary@salechamberorchestra.co.uk to book your place. You just need to bring a paying adult with you, who will sit in the row behind you. Adult ticket price is £10.
VIPs get to sit up front so they get a really good view of all the action. We give our VIPs special programme notes and a free badge and they get to meet the Conductor and soloists during the interval. Also, there is often a surprise guest or surprise activity which is specially designed to delight our young VIPs!
email secretary@salechamberorchestra.co.uk for more information or to book your place
The concert on November 19th 2016 was very special. Trafford Infant Choir were our special guests, Minim was everywhere, the VIPs smiled a lot and Minim's new book was launched. It was exhausting (especially for Minim) but we all had a wonderful time and heard some amazing music.

Our concert on June 18th was particularly exciting. As well as all the lovely music and three soloists, Wrexham's own Story Teller Jacqui Blore came to delight one and all with a tale about brave mice. There was also an exhibition of charming Minim mouse paintings by our friend Mar Van de Kaa.
Minim-Mouse and all her friends absolutely loved the last concert on 5th March. The mouses had this to say…
"Squeak, squeak! What a wonderful concert! The Minims loved all the music especially Elinor's magical harp playing. We were very surprised by how big the orchestra got for Jac's piece as suddenly everyone was joining in, which made an amazing sound. We just had to join in too with whisperings and happy tail swishes. And it was lots of fun hiding all over the church for the VIP mouse hunt. The VIPs were very kind and gentle with us little mousey music-lovers."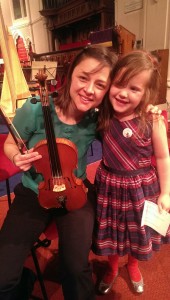 Here's (right) violinist Vivienne with one of our lucky VIPs who is wearing her Minim Mouse badge and looking very happy. All the children listened brilliantly to the concert and even got to have a try on Elinor's harp (below).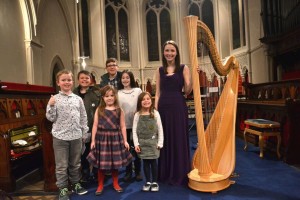 Minim and her friends love music and they love to have musical adventures. Recently they have explored the harp, and the double bass and all climbed up the Conductor to get a good view of the orchestra.
To hear more about the #Tales of Minim, you can follow these adventurous music-loving mouses on twitter and facebook
Become a friend of the orchestra to be one of the first to hear about when we next open bookings for our front row. It's free to become a FOTO and children's tickets are also free for our concerts because we are passionate about encouraging the next generation of music lovers.
Here are some of our 28th November 2015 VIPs, during the interval, with our super soloist Slava Sidorenko.
Here's what the parent of one of our lucky VIPs had to say
"What a tremendous concert. I thoroughly enjoyed it and my daughter, although unfamiliar with what was fairly grown up music, seemed to enjoy it, and loved the special attention paid to the Front10 children. What a fantastic idea and so many musicians made a fuss. It was great."
Previous Concerts
Save