On March 5th 2016, we gave the premiere of 'Meristem' by Jac McKeigue, our composer who is permanently in residence in the leader's chair.
"Meristem is modern music: unapologetically modern music. Sounds are often mysterious, sometimes absent; there is much to see and it will be surprising and fun. This will be like nothing seen or heard before at an SCO concert. It's a unique opportunity to take part in a very special world premiere."
"Meristem really captured the imagination. If it was an art gallery piece it would win the Turner Prize."
Kara McCabe, audience member
"The audience participation was spine-tingling."
audience member
"I really enjoyed playing it and having the audience participation really brought it to life."
Luci Howarth, violinist

"Congratulations! It would be wonderful to see and hear your piece again."
audience member
Here are some comments from Vivienne, one of our violinists, on rehearsing this new work…
"What a wonderfully freeing experience! Rehearsing Meristem is challenging my very rigid concept of how "music" is defined. Through exploring alternative methods of producing a meaningful piece of music, I am learning to let go of the inhibitions that are a consequence of this rigidity and actually become part of the creative process. What a journey – thanks Jac for the opportunity!"
__________________________________________________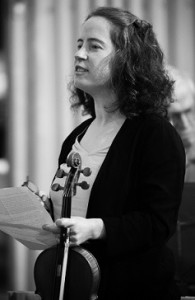 Jac McKeigue creates music that is both uncompromising, in its forward-looking attitude, and also accessible. She seeks to break down traditional formalities and welcome audiences into a deeper engagement by creating theatrical work, often involving them. Her focus on the visual aspects of performance comes from the fundamental recognition that movement and music are inextricably linked. Jac enjoys creating work that has an awareness of the importance of entertainment for both audiences and performers.
She has been commissioned by Amaretti Chamber Orchestra and the University of Sheffield's Symphony Orchestra and Elgar String Orchestra. In 2013 Jac was an invited speaker on the composers' panel at the 16th London New Wind Festival where Phil Edwards gave the first performance of her solo Bb clarinet piece When I am at my best… Her work has also been discussed in a public masterclass, as part of the Huddersfield Contemporary Music Festival Autumn Composers Symposium. Last year Jac presented a paper at the International Conference on the Multimodal Experience of Music, in which she explored '…the exploitation of the visual in performance' in her Octet and Solo clarinet pieces.
Jac was awarded a PhD in composition in 2014 and now works as a freelance composer, violinist and teacher. For more details about her work, see www.jacmckeigue.com